The Sportmetropole Berlin initiative
Staying ahead of the game!

Founded in 2009, the Sportmetropole Berlin initiative ensures that Germany's capital city retains and develops its reputation as one of the top global locations for sports events. The initiative markets Berlin nationally and internationally as THE metropolis for sports in Germany. In this unique national cooperation, key decision-makers join stakeholders in Berlin's sports sector, industry and the economy. These not only include major sports venues and events as well as Berlin's top clubs, from the Olympiastützpunkt Berlin (OSP) to the Landessportbund e.V. (Berlin State Sports Association) and the Berlin Marathon, but also the Senate Department for the Interior and Sport, the Chamber of Commerce (IHK), Berlin Partner for Business and Technology, and visitBerlin.
With support from cooperation partners AOK and DKB, Sportmetropole Berlin offers top-flight sport in Berlin all the benefits of a shared communication platform.
This initiative also showcases the broad spectrum of high-profile sporting events both at home and abroad, leveraging the power of sport to market the city. In particular, this aims at heightening awareness of major national and international sporting events as well as matches on the professional club level and further boosting spectator numbers.
The Sportmetropole Berlin marketing activities include an annual joint event to mark the start of the season in this sports metropolis. The Sportmetropole Berlin marketing initiative is presented on the joint communication platform www.berlin-sportmetropole.de. And for those unable to visit a game themselves, our Facebook page offers followers all the latest updates and information – live from the stadium, arena, pitch and court!
Members of the Sportmetropole Berlin initiative: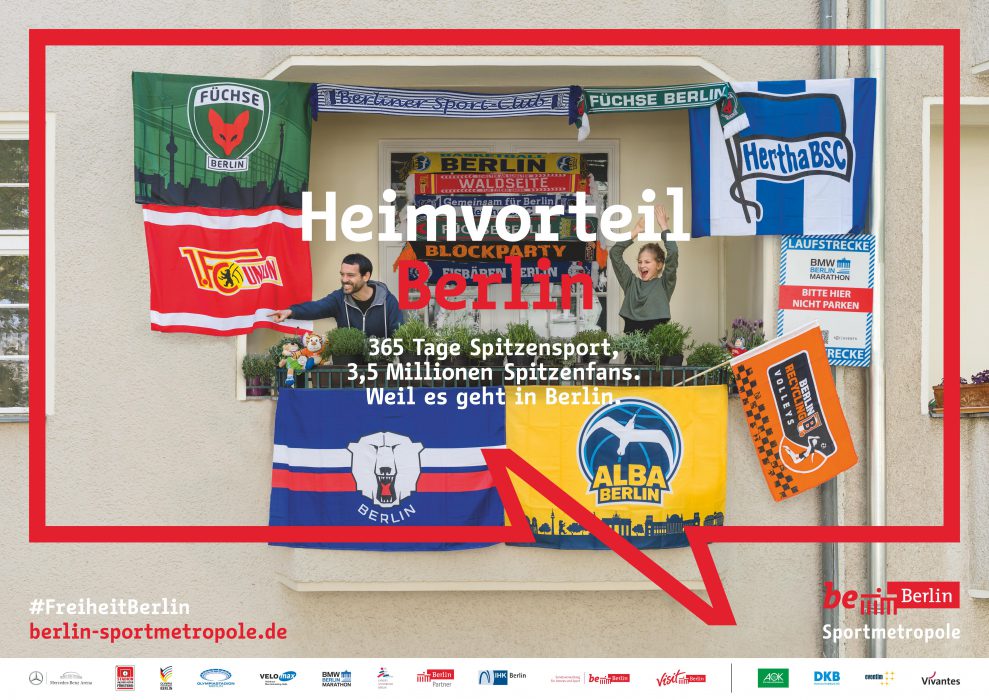 The City of Berlin is a member of the International Association of Event Hosts (IAEH). The IAEH is a worldwide organisation for all cities and countries that host major sporting or cultural events.
Image description (f.l.t.r.): Michael Hapka (Anschutz Entertainment Group), Senator Andreas Geisel (Senatsverwaltung für Inneres und Sport), Christian Jost (SCC Events), Staatssekretär Christian Gaebler (Senatsverwaltung für Inneres und Sport), Sabine Wendt (visitBerlin), Luke Reynolds ( Berlin Recycling Volleys), Uwe Krupp (Eisbären Berlin), Daniel Fiebig (IHK Berlin), Velimir Petkovic (Füchse Berlin), Pal Dardai (Hertha BSC), Jens Keller (1. FC Union Berlin), Aito Garcia Reneses (ALBA Berlin), Klaus Böger (Landessportbund Berlin e.V.), Sebastian Rüss (Velomax), Timo Rohwedder (Olympiastadion Berlin), Dr. Stefan Franzke (Berlin Partner für Wirtschaft und Technologie GmbH)