Event highlights

November 30 - December 2nd 2018
TISSOT UCI Track Cycling Word Cup
8 April 2018
38th Berlin Half Marathon 2017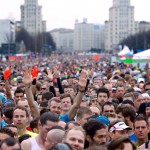 Season opener for all marathon fans
Berlin's half marathon is one of the city's classic runs, attracting many international participants. Professionals run with amateurs, and large enthusiastic crowds along the route cheer them all to the finishing line. More Infos...
25 May 2019
FIA Formula E Championship 2019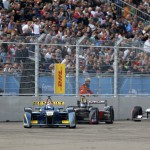 The all-electric motor racing series
The FIA Formula E Championship is the world's first all-electric motor racing series. On May 25, the Formula E racing cars, which reach speeds of around 230 km/h but are as quiet as a normal car, meet for the E Berlin ePrix on the former airport Berlin-Tempelhof. More Infos...
27 - 29 July 2018
Global Jumping Berlin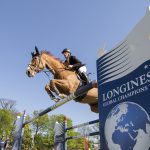 5 star Event for Berlin
The Sommergarten at the Funkturm of Berlin will provide the stunning backdrop to the Longines Global Champions Tour (LGCT) and Global Champions League. Global Jumping Berlin will celebrate its debut on the world´s premier show jumping circuit. More Info ...
17 – 22 July 2018
Archery World Cup Berlin 2018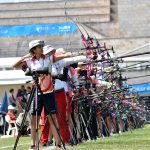 Qualification and Finals at Archery World Cup
The Berlin-Brandenburg region is a center of the German archery. Thousands athletes are organized here in more than 150 clubs. Most of Germany's top archers, among others Lisa Unruh, Elena Richter, Karina Winter, Eric Skoeries, were Berlin based. 
7 - 12 August 2018
European Athletics Championship 2018
47 Entscheidungen um Gold, Silber und Bronze
Vom 7. bis 12. August 2018 kehren viele der besten Leichtathleten unserer Zeit nach Berlin zurück. Erstmals ist die Sportmetropole Berlin Gastgeber einer Leichtathletik-Europameisterschaft. Mindestens 1.500 Sportlerinnen und Sportler aus 50 Nationen werden 2018 in 47 Disziplinen um Gold, Silber und Bronze kämpfen. More Infos...
11 - 12 August 2018
100 Miles Berlin 2018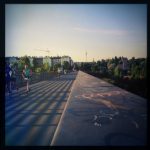 Berlin Wall Run
160,9 km along the former border an in rememberance of the victims of the Berlin wall. Ether individually or as a relay team. More infos...
2 September 2018
ISTAF Berlin 2018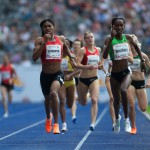 77th Track and Field Meeting in Berlin
180 athletes, 40 nations, 16 disciplines – for sports fans, late summer means world-class track and field events in Berlin's Olympiastadion. This year, Berlin is hosting its 77th ISTAF Berlin – International Stadium Festival! 
15 – 16 September 2018
45rd BMW Berlin Marathon 2018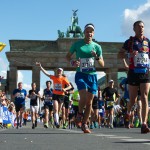 The marathon spirit in Berlin
Every year, around 60,000 runners, hand cyclists and inline skaters from 120 countries eagerly await the starting gun at the BMW Berlin Marathon. The 42.195 km route takes them through the city past many famous sights – and with the popular Bambini run and the mini-MARATHON, even young runners can take part! More Infos...
13 October 2018
German Bowl in American Football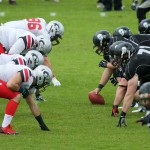 America's classic sport in Berlin
In autumn 2017, the stadium at the Friedrich-Ludwig-Jahn Sportpark in Prenzlauer Berg hosts the 40th national championships in American football in Germany. The German Bowl always has a special atmosphere, with great American football, cheerleaders from across Germany and music by acts from Berlin's popular "Stars in Concert" show. More Infos...
13 - 14 October 2018
UCI Trials World Cup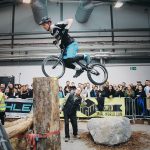 In October, the world's best Trials riders will compete for the title of UCI Trials World Cup Winner 2018 - for the first time in Berlin in the hangar 5 at Tempelhof Airport. Spectacular and full of action:  over boulders, logs and concrete pipes by bike without putting down a foot - this requires skills, courage, strength and concentration. It is no surprise that Trial is called the supreme discipline of cycling. More information ...
25 – 30 January 2018
106th Six Day Berlin 2018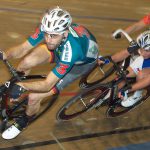 Professional sports and entertainment
When it is cold in winter and people would prefer not to be outside, the Berlin Six-Day Race attracts fans to the indoor cycling track to watch exciting professional sports in a relaxed atmosphere. Various cycling races have always been part of the Six Day Race, including motor-paced races, Derny racing, and sprinting. More Infos ...
26 January 2018
ISTAF INDOOR 2018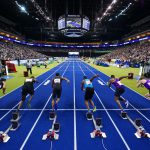 The world's elite track and field athletes meet in the Mercedes-Benz Arena
The ISTAF INDOOR is the world's largest indoor track and field meeting. With its mix of top athletes, show and music, ISTAF INDOOR has raised the bar for indoor competitions, thrilling audiences and visitors alike – and guaranteeing fans a glittering array of track and field events! More Infos ... 
13 Mai 2018
Velothon Berlin 2018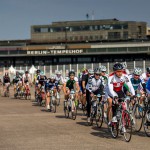 Europe's second largest open cycling race
The Berlin Velothon, Europe's second largest cycling race for all-comers, attracts up to 15,000 amateur and professional cyclists racing on the same course. Berlin's 60 km route resembles a sightseeing tour past many of the city's famous landmarks, while the Velothon 120 km takes riders through parts of the neighbouring Brandenburg region. More Infos...
May 2019
S 25 Berlin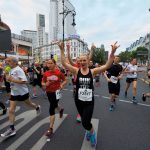 The S 25 Berlin will be held for the 39th time starting from the Olympic Stadium.
This sporting event was founded by the Frenchman Major Bride with the former title of "25 km de Berlin".
"Berlin läuft!" has been organising the running event since 2008. In addition to the 25-kilometre course, there is now a children's race and other endurance races such as the marathon.
4 - 11 August 2019
World Championship Icelandic Horses
After 2013, the equestrian sports park Karlshorst will once again host the World Championship for the best Icelandic horses this year.
200 horse/rider combinations from 18 countries will compete in nine disciplines.
The horse show "More Horsepower" on 10 August is very popular. More Infos ...